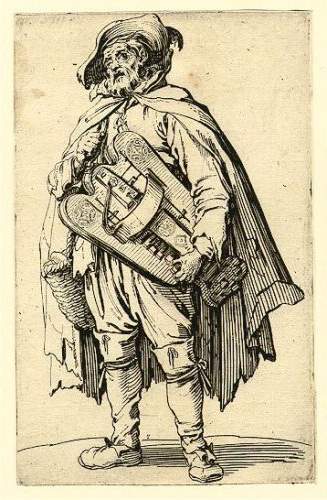 Custom Hurdy Gurdy based on a 1623 print "Beggar Playing Hurdy Gurdy" by Jaques Callot.

The instrument has seven strings: two bourdons, three chanterelles, one mouche and one trompette.

This instrument is in D/G tuning with a third chanterelle added in A to produce parallel organum.

It is fitted with 3 trompette capos to give tunings of C, D, E or G. It is also fitted with 2 capos on the petit bourdon string making C, D and E available.

The range of the chanterelles is extended downwards by two lockable extra keys to make either C# or C leading note available.

Flamed maple is used througout with very traditional colouring and shellac finish.

The sound is very full, well balanced and sweet, the five capos give the player a choice of wide range of keys and musical colours.